When a user receives an email from your Email Marketing campaign, their email service provider presents them an option to mark the email as "spam". If the emails that you send from your Email Marketing dashboard receive too many spam complaints from recipients, then you may be in danger of having your Email Marketing services deactivated.
To see how many of your emails are being marked as spam, navigate to your Nurture app in the Global App Bar, then navigate to the Email Campaigns dashboard. Select one of your email campaigns to view the campaign report. You will see a number of people who marked the email as spam, as well as the percentage of users who marked it as spam.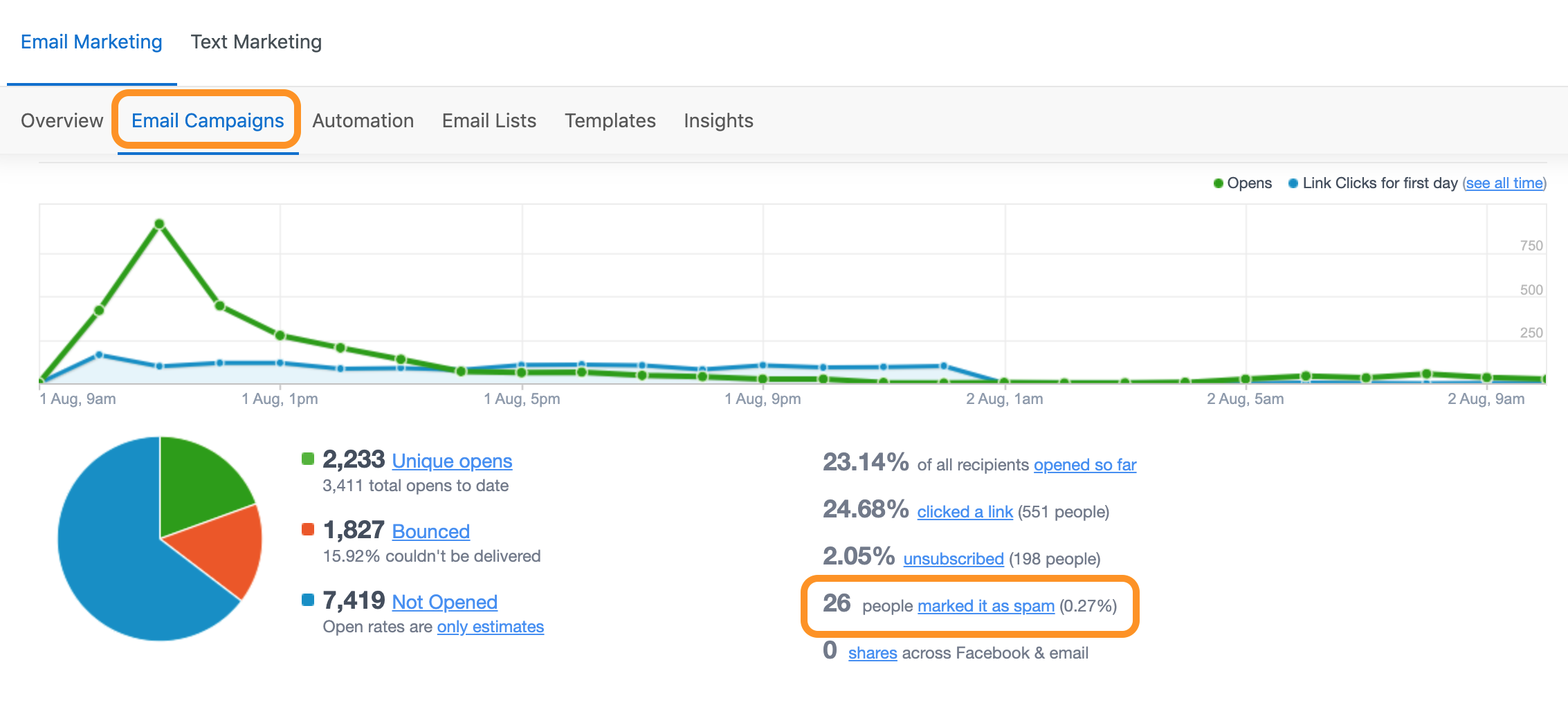 The industry standard for these kinds of complaints is .02% of all recipients (about 1 in every 5,000) - so while it is not out of the ordinary for an email recipient to mark one of your emails as "spam", it is important to keep that number as low as possible.
Actions to take to reduce the number of spam complaints
There are a number of changes you can make to your email marketing practices to reduce spam complaints.
1. Verify your Domain
When you send emails to your subscribers, you will want to make sure that the email address that the emails are "sent from" your business' email address. However, if the domain name attached to your business email address is not verified or authenticated, then your emails are more likely to end up in spam. See more information about verified domains and how to authenticate your domain.
2. Optimize Your Emails
On the footer of your emails, include your Business Name and Address are included along with a clear explanation of how you got that subscribers permission, and give them the opportunity to unsubscribe immediately if they no longer wish to receive emails.
For example: "You're receiving this email because you have shown interest in _____.
If you would like to unsubscribe at any time, please click
unsubscribe below."

Add Alt Text to the images in your emails. Adding Alt Text to the images will help Google analyze the email more quickly. The more obvious the image name, the better. Also, when images do not display properly, the Alt Text will appear in a blank box that would normally contain the image (therefore, name your pictures sensibly and appropriately).

Add Preheader Text in your email settings dashboard. Preheader Text is a "preview" of what's included in your email, which is shown in the inbox of most email providers, next to the subject line. Adding good preview text reduces spam complaints.
Add UTM Tags to your emails. UTM Tags allow you to track any website traffic that originates from a specific email campaign. More information on how to add UTM Tags to your emails.
Above all, make sure that your emails look reputable and are well designed. If your emails do not look professional, some recipients may not trust your unsubscribe link and mark them as spam instead.
3. Clean Up Your Email Lists
Set clear expectations when someone joins your email list. Tell them what types of emails they'll receive and how often they will receive them.
Remove any email addresses from your email list that you have not received permission to send emails to. You will want to have explicit permission from everyone in your email list before sending them an email.
Use confirmed opt-in for all of your subscriber lists. This provides proof that those making spam complaints are unwarranted. Here is an article that walks through how to set up confirmed opt-in when users sign up for your email list.
If you follow the above steps, then you can help ensure that your emails are not reported as spam.