The Intelligence Overview page provides a very high-level marketing overview for key marketing metrics. The data displayed there is an aggregate of marketing across channels. If you only have 30 seconds and you need to get a feel for how effective your marketing is across different channels, this is the report for you!
To dive further into any of these metrics, navigate to one of the specific apps like Content or Social.
Filtering By Date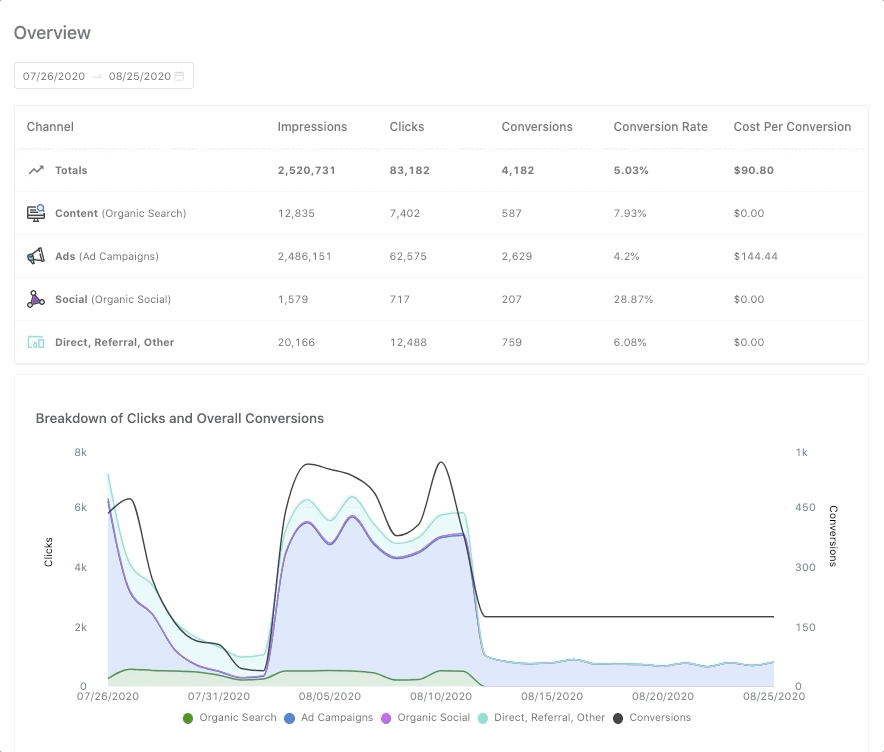 To focus on a specific time period, use the date filter at the top of the page. You can select a pre-set date filter like 'last week' or 'year to date' or choose a custom filter if needed. Once you select a date filter, both panels will re-load with stats specific to that period.
Understanding the Overview

The top panel displays key marketing metrics as individual channels.
| Column | Description |
| --- | --- |
| Channel | |
| Impressions | The number of times your website was shown on that particular channel. For example, content impressions note how many times your website surfaced in users' search results. |
| Clicks | The number of times users clicked the impression to visit your website. |
| Conversions | The number of times that users completed the sales funnel on your site by taking actions like calling or submitting a form after clicking the impression. |
| Conversion Rate | Percentage of users who are completing the sales funnel on your website to become leads or sales. The total row for the conversion rate data is an average of the conversion rate percentages across all channels. |
| Cost Per Conversion | The cost breakdown of each conversion. |
Breakdown of Clicks and Overall Conversions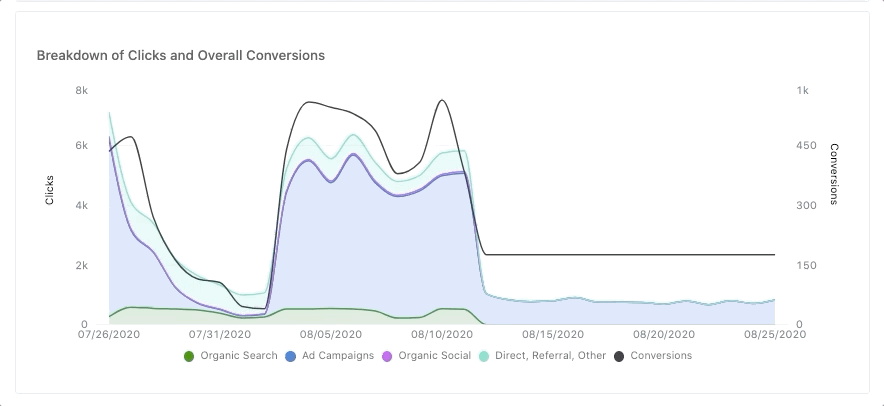 Use the second graph to compare clicks vs overall conversions over the selected time period. You can toggle any individual channel on or off by clicking the colored icon at the bottom of the graph. To gain more insights into any channel, you can also hover over the graph to view more stats for that time period across any channels.
Why The Overview Matters
Time is money, and if you only need a quick pulse-check on any particular marketing metric, the overview can give you a high-level overview the effectiveness of any of these key channels in just a few moments. This allows you to stay up to date without having to dive into different apps and channels.