The Settings overview is where you can manage important settings for your account, including your business information, the users on your account, billing information, and more. In this article, we'll go over how to navigate the global settings and review some of its features.
To access your account's Settings overview, select the App Menu in the top-left corner of your iHeart Business dashboard. In the drop-down menu, select Settings.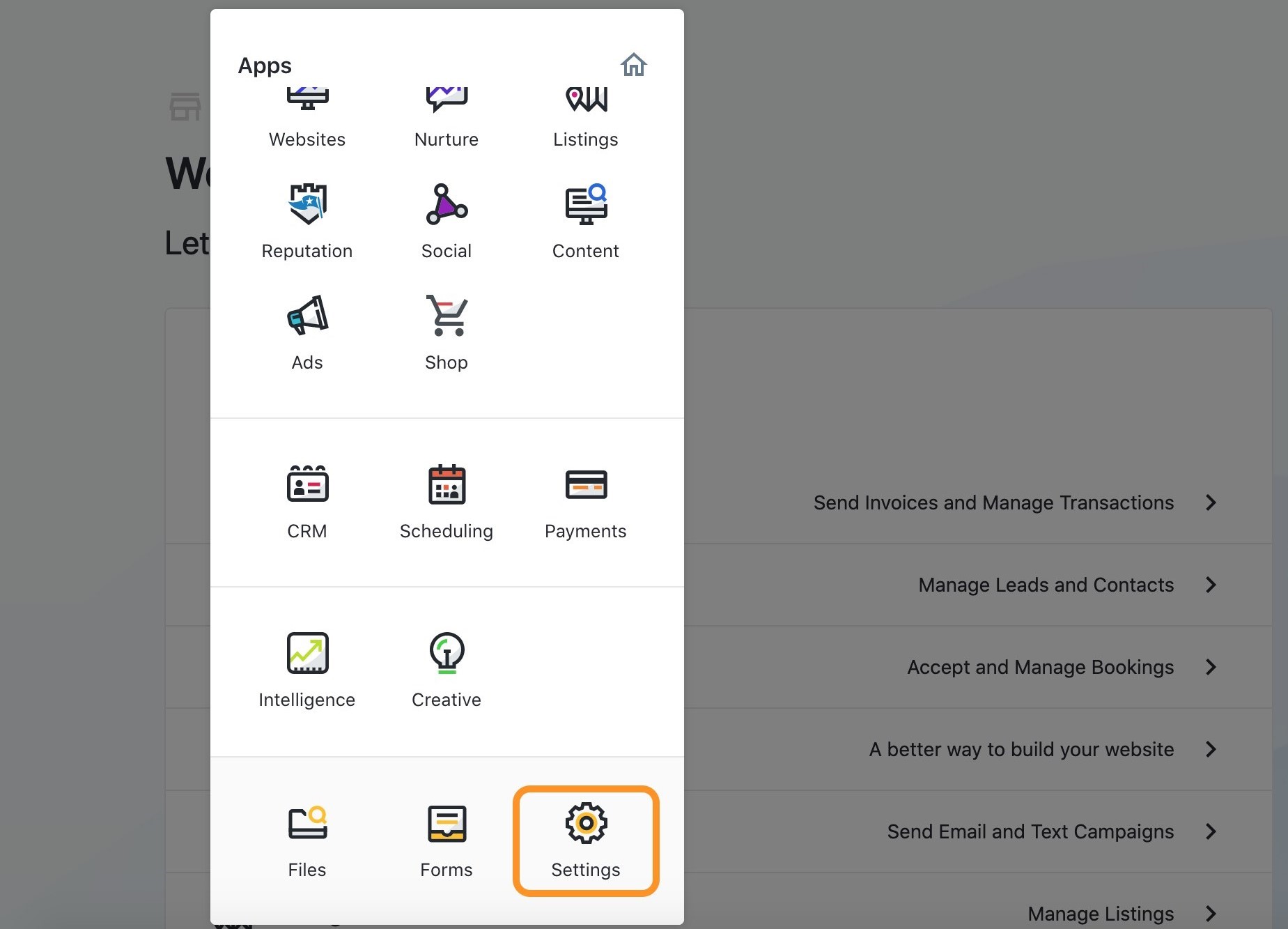 On the Settings overview page, you can navigate between each section using the options on the left-hand sidebar.
Business Information
This page allows you to add or manage all of the business locations associated with your account.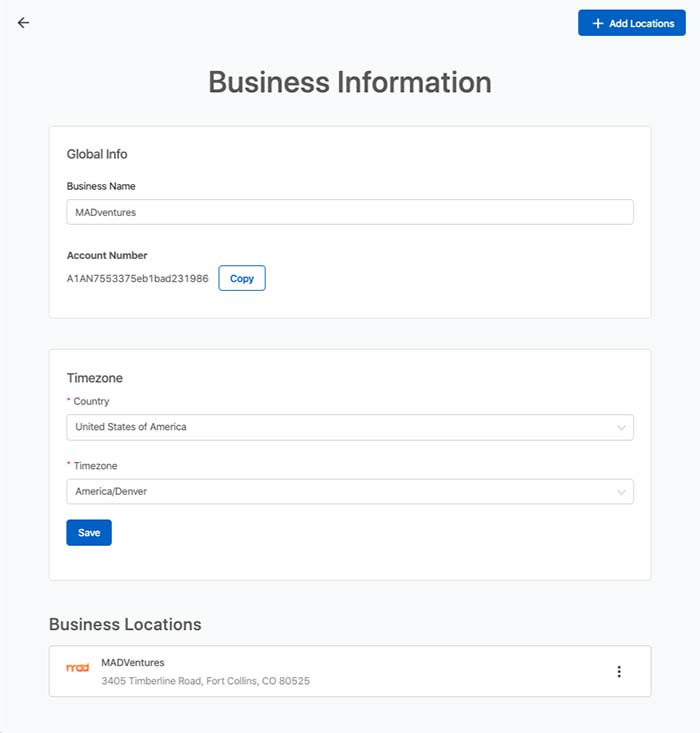 Global Info
The Global Info panel displays your business name and account number. If you ever need to send your account number to the support team for easy troubleshooting, you can easily copy your account number to include in your support ticket.
Adding a New Business Location
To add an additional business location, click the + Add Locations button in the top-right corner of the page.
Setting Your Timezone
Select your country, then begin typing the name of the closest major city near you that shares a timezone. Once you've selected a country and timezone, click Save.
This setting help keep things like CRM history notes, creative to-do assignments, and other time-related things all on point.
Business Locations
Each Business Location you add using the + Add Locations button is displayed here. Click the three-dot icon near the right to edit any individual location's details.
Users, Permissions & Teams
You can manage and add users who can access your website, CRM, and other iHeart Business products.
Add a New User
Click the Add User button to add a new user to your iHeart Business account.


When you are setting up a new user role, you can set a role that applies to the user across every App:
| User Role | Description |
| --- | --- |
| Owner | The user who initially sets up the iHeart Business account. Has access to all applications. Owners can add, edit, and delete all content; can manage account settings, users and billing. |
| Admin | Has access to all applications. Admins can add, edit, and delete all content; can manage account settings, users and billing. |
| Manager | Has access to specified applications. Can add, edit, and delete all content; can manage account settings and users. |
| Contributor | Has access to specified applications. Can add, edit, and delete all content. |
If you would like to further edit a user's permissions on a per-app basis, then you can uncheck the Access to all apps selection. You can then view a list of all apps and check/uncheck the boxes to restrict access to each app. Here is a list of the limitations or restrictions that come with each user role on each app.
Manage Users
You can manage any user with an equal or lower access level. If you would like to make changes to a user's permissions, click the three vertical dots on the right-hand side next to their name. You can log them out of all iHeart Business products, or revoke their access.
You can click on the user's name to view their profile, edit their user information, or change their permission level.
Manage Teams
Teams give you the option to allow specific groups of people in your business or organization to view specific areas within the CRM. The flexibility of teams allows you to restrict as much or as little contact data as you'd like from the various team members in your business.
For more information, click here to read the full help article on creating teams within your business.
Billing Information
All of your billing and payment details are located in this section. Click the anchor links toward the left-hand side of the page to jump to each section.
Payment Method
This section displays the current payment method on file for your account. Click Manage to update or change your payment information.
Credits
You can add fuel to your account. Click the + button in the corner of each block to contact your dedicated team, who can add the fuel to your account.
Ad Credits
Content Credits
Creative Credits
Video Credits
Subscriptions
Every product or service that you have been subscribed to will show up in this section. The Status column shows whether each product is active or inactive. You can also see when your upcoming payments are due and the cost of each product or service.
History
This section shows all of your past charges and payments. If you are past due on a payment, you will see that here.
Other Settings
Visible Products
This section allows you to manage which products show up in your product navigation. Turning off a toggle switch does not delete the product, it only removes it from the navigation. You may wish to turn off products that you do not currently use, in an effort to de-clutter your navigation.
Daylight Savings
If your state or territory observes Daylight Savings Time (DST), you should make sure that this switch is toggled "on". For example, if you send out scheduled social posts, you will want to make sure this setting is turned on to ensure that posts are sent at the correct time.