The steps in an email Journey are executed relative to a journey's start time for a subscriber. That timing is maintained when a journey is turned off — that is, subscribers already in a journey that's turned off will continue their progress through the steps, but they will not receive the emails along the way.
Maintaining your subscribers' movement is important. For example, if you had a pregnancy journey that ran throughout the full nine month term, it would be strange to receive tips for the birth after the child was born because the journey was turned off for a month, and subscribers weren't progressing through the steps during that time.
To demonstrate further, the image below shows a journey, with the initial three emails spaced a week apart. If the journey is turned off after the subscriber receives the first "Welcome" email, then is turned back on 10 days later, the subscriber:
continues moving through the journey while it is turned off
is not sent the "Week 1: Growing with your baby" email
is sent the "Week 2: Nutrition and you" email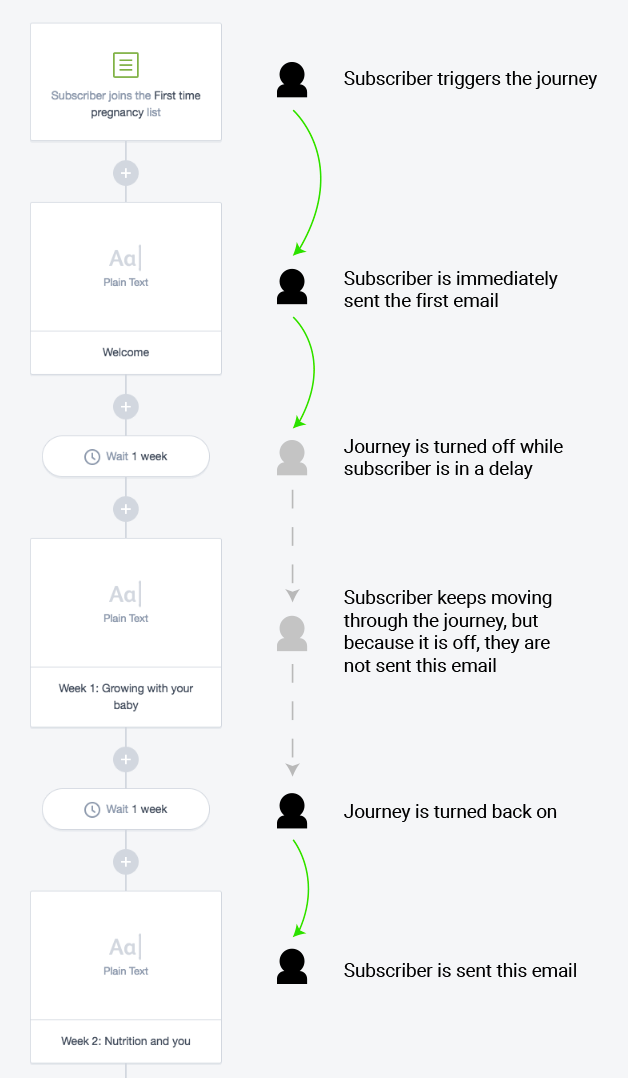 If someone unsubscribes halfway through a journey, then resubscribes, the behavior is similar to what is described above. They will not restart the journey or continue from where they left off, but will rejoin at the step they would have been at had they never unsubscribed.