If you have a iHeart Business form on your website used to capture leads, then you can also set up a notification that sends you a text message every time you receive a form submission.
To get started, click on the App Bar dropdown menu in the top-left corner of your iHeart Business dashboard, then select Forms from the dropdown menu.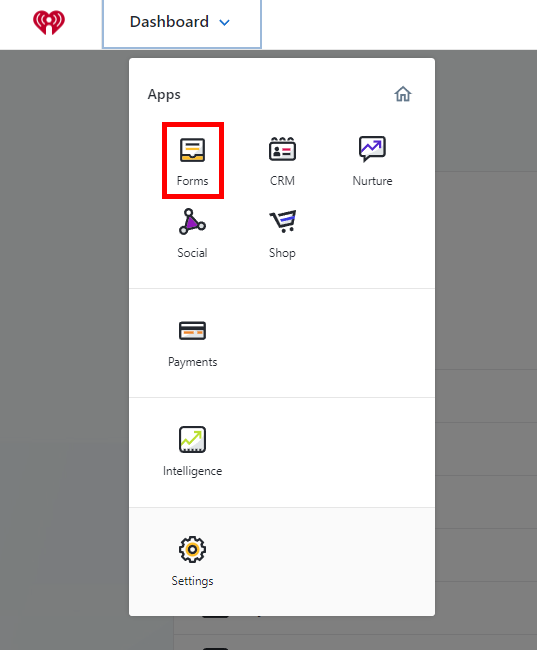 1. On the Forms dashboard, all of the forms within your account are listed. Click on the form that you would like to set up the notification for.
2. Select Settings towards the top of the page.

3. Scroll down to the section on the page labeled Notifications, then click the Add button.

4. A pop-up will appear. In the Name field, enter a label for the notification (for example, "Text Message Notification").
5. You will be asked to enter an email address in the Email field. Each major phone carrier has its own unique email suffix for sending text notifications. The chart below shows the email address for each major carrier:
| | |
| --- | --- |
| Alltel | xxxxxxxxxx@message.alltel.com |
| AT&T | xxxxxxxxxx@txt.att.net |
| Boost Mobile | xxxxxxxxxx@myboostmobile.com |
| Carolina West Wireless | xxxxxxxxxx@cwwsms.com |
| Cellular One | xxxxxxxxxx@mobile.celloneusa.com |
| Cricket | xxxxxxxxxx@mms.cricketwireless.net |
| Illinois Valley Cellular | xxxxxxxxxx@ivctext.com |
| Inland Cellular Telephone | xxxxxxxxxx@inlandlink.com |
| Metro PCS | xxxxxxxxxx@mymetropcs.com |
| Nextel | xxxxxxxxxx@messaging.nextel.com |
| Sprint | xxxxxxxxxx@messaging.sprintpcs.com |
| T-Mobile | xxxxxxxxxx@tmomail.net |
| US Cellular | xxxxxxxxxx@mms.uscc.net |
| Verizon and Straight Talk Wireless | xxxxxxxxxx@vtext.com |
| Virgin Mobile | xxxxxxxxxx@vmobl.com |
If your carrier is not listed in the chart above, you can find your mobile email address on your own: Send a text message to your email address. Open the email; the email address in the From: field is the mobile email address you can use to receive texts.
Replace the xxxxxxxxxx with your 10-digit phone number (including area code) with no spaces in between.
The screenshot below shows an example of how this should look:
6. Click Submit.
Your text message notification should now be set up. You may want to submit a "test" form submission on the form to see if you receive the notification on your phone.