The Leads Inbox is where you can view new leads, manage your leads, and nurture leads as they move through your sales funnel. The Leads Inbox is useful for companies that have a longer selling cycle, or who simply want a designated space to manage their leads before adding them as a Contact within their CRM.


To navigate to your Leads Inbox, first navigate to your CRM, then click the Leads Inbox page.



You will then land on your main Leads table. From here you may take the following actions:
Search for and Filter leads
Search for leads by using the search field.



Filter out what leads you want to see by using the Filtering capabilities.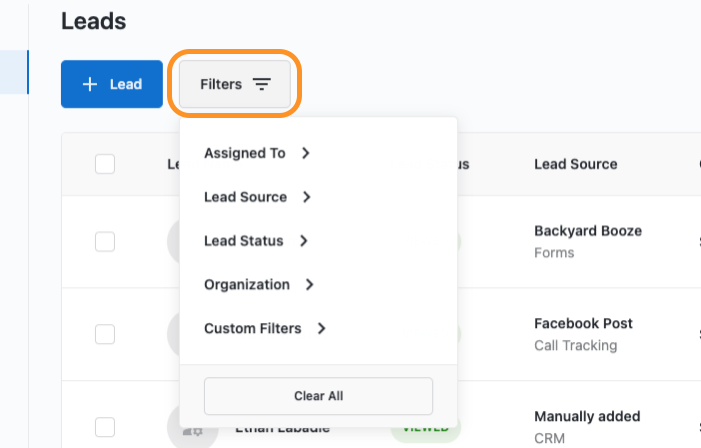 You may filter by:
Assigned To

Lead Source

Lead Status

Organization

Custom Filters
Bulk Edit Leads
Select one or more leads using the boxes on the left side of the leads table, then use the Actions drop down to quickly edit multiple leads at once: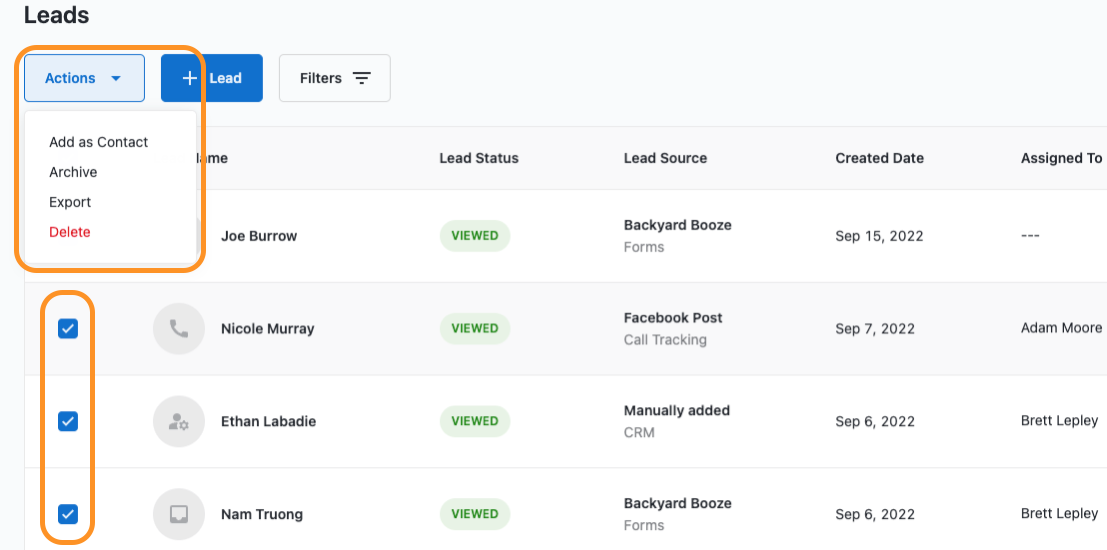 Visit a Lead's profile
Visit a leads profile by clicking their name on the Lead's table.



View a Lead's status
The Lead Status column will automatically update based on the status of that Lead. The available statuses are:
New:

The New status will be assigned to every new lead that comes into the leads inbox that has not yet been viewed. View a lead by by visiting their lead profile.

Viewed:

The Viewed status will be assigned to any lead who's profile has been viewed.

Restored:

The Restored status will be assigned to any Archived lead that has been restored to the Leads inbox. Once the Archived lead has been viewed, it will revert back to the Viewed status.
Lead Source
The Lead Source column will show how the lead came into the Leads Inbox (via form, call, or manual addition).
Created Date
The Created date shows when the lead was created.
Assigned To
The Assigned to column will show what employee the lead has been assigned to.
Quick Action Buttons
Hover over a lead to access quick-action buttons to archive, email or call a lead right from the Leads table.



Overflow menu
Last but not least, use the overflow menu to Delete, Archive, or save a lead as a Contact.