Setting up iHeart Business Payments is a simple process that you can complete in as little as 15 minutes. The complete Payments setup process consists of four parts:
Activating iHeart Business Payments: Active the Payments app within your iHeart Business Account
Filling out an application: Complete the Payments application and submit key business details to be approved for our Payment processing tools.
Syncing your bank account: Sync the bank account where you would like to receive payouts to the Payments app.
Running a test transaction: Make sure you are receiving transactions in your bank account.
Step 1: Activate iHeart Business
Payments

iHeart Business Payments is available to anyone with an active iHeart Business account. To activate Payments, complete the following steps.

Navigate to the Payments app: Select the Payments app from the overview screen, or from the navigation dropdown.


Check the box to agree to our Payments Terms of Service and unlock Payments.

Step 2: Fill out the Application
Next, you will need to complete an application to use iHeart Business Payments to confirm your business details. Follow the instructions to complete the required fields and enter your business details.
Begin by adding your legal business name, and be sure that it matches exactly the name associated with your Employer Identification Number (EIN). Then, add your EIN, your secondary business name, your registered business address, a business phone number, the industry you are in, as well as the link to your business website. If you do not have a website, you can share an app store link, a social media profile, or even add a product description for the time being.
You will then be prompted to enter your management role information. Please note that this must be activated by an executive, senior manager, or someone who has significant responsibility of controlling and managing your business. This is for security reasons, so please be sure to fill out the correct information.
Once you've entered your name, email address, job title, date of birth, home address, phone number, and the last 4 digits of your social security number, click Next to continue.
The next page is only necessary if applicable. Here, enter the information of each individual business owner if they own 35% or more of your company. If there are no more owners, click the blue button labeled Continue with No Owners.
Lastly, the system will ask you to verify the information that you have entered. If there are any errors - or if more information is needed - you will be notified to go back and update your setup credentials. If everything checks out and is good to go, you'll be prompted to click the blue Done button at the bottom!
Read this article to learn more about how to fill out an application using the Payments Setup Wizard.
Step 3: Set Up Your Bank Account
Next, link your bank account to Payments so you can receive payouts.
Note: You can only sync one bank account to your Payments App.
Inside the Payments dashboard, select the Settings tab at the top of the page.
On the left-hand sidebar, select Bank Accounts & Scheduling

.

On the Bank Accounts & Scheduling page, click on the Update button under the Bank Account settings.




You have two options to link your bank account. You can securely link your bank account using Plaid by clicking the Securely Link Bank Account button, or you can enter your bank account details manually.





By choosing the Securely Link Bank Account option, you will be able to select your bank from the dropdown menu; you will be prompted to log in to your online banking account to link it to your Payments dashboard.
If you do not see your bank listed on the menu, then you may wish to manually enter your bank account details. In the "Update Bank Account" pop-up window, click the link next to Prefer to manually link your bank account? at the bottom. You will be asked to enter your Account Holder Name, your Routing Number, and Account Number for the bank account you would like to link.

Click Update Bank Account

when finished.
Step 4: Run a test transaction using the Payments Dashboard
Within the Payments app, c

lick on the

One-Time Payment

tab in the navigation.

Click on the Add One-Time Payment button.





Fill out the popup box with the amount and card details. It's recommended to enter your name, email, and description of the product or service you are selling.
Use your credit card - it will go into the bank account you have connected.




Click the blue Checkout button.
After you select Checkout, a message box with a time stamp will pop up informing that your payment was successful.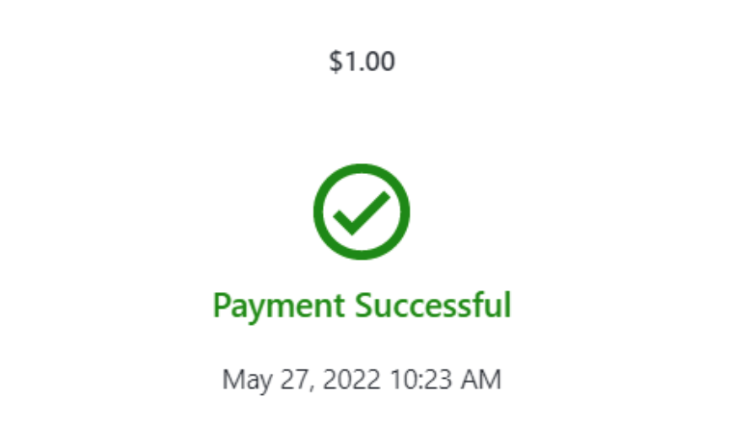 If the card transaction is declined, you will see the following message. You can try a different card or contact our support team for help.