Payouts are how money from your customers gets deposited into your bank account. Depending on your business location and payout schedule, funds from your transactions will be paid out to your bank account on a rolling basis.
Use the Payouts page to monitor these transfers from your Payments account to your bank account.
Where's My Payout?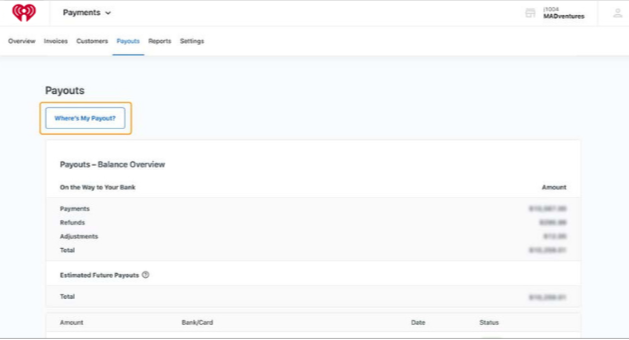 If you ever need to check on the status of a payout, click the Where's My Payout? button at the top of the page. In the window that displays, simply select the payout and click Next. On the following screen, you'll see an explanation of possible reasons the payout has not yet reached your bank.
How Often Do I Receive Payouts?
When you are signing up to receive Payments, you can decide your payout schedule upon signing your Personal Guaranty. You can choose to receive Daily (it may take up to 48 hours for the funds to reach your bank account), Weekly, or Monthly Payouts.
You will need to sign your Personal Guaranty before you can receive payouts.
Payouts – Balance Overview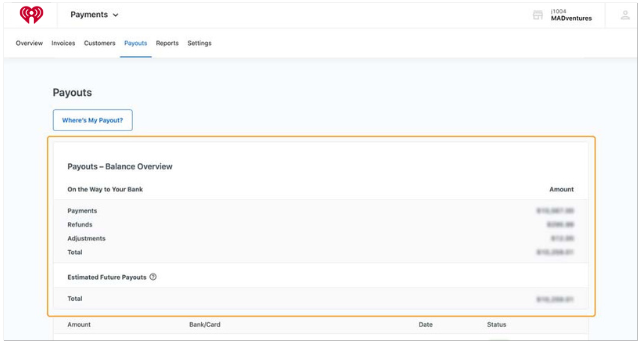 The Payouts – Balance Overview panel displays all payouts. Under On the Way to Your Bank, you'll see ones that are in progress. These are broken down into three categories: Payments, Refunds, and Adjustments.


| | |
| --- | --- |
| Payments | Payments that generated revenue for your business. |
| Refunds | Refunds that were initiated on transactions after the funds had already been sent to your bank. |
| Adjustments | Credit notes you made on invoices to adjust the balance after the fact. |

Estimated Future Payouts displays future payouts that are scheduled, but have not yet been processed. Keep in mind that these amounts are estimated because transactions are still accumulating.
The last panel on the page displays your past payouts. You can view the amount that was paid out, the bank account it was transferred to, the date of transfer, and the status.